10,000+
DXC resources accredited and certified
DXC and Dell Technologies partnership at a glance
---
Modernize and effortlessly anticipate and respond to change
---
Global Alliance Partner of the Year and Black Titanium Partner
---
Leader in 7 Gartner Magic Quadrants
---
Broadest choice of consumption-based IT solutions and proven, strategic support for enterprise transformation
DXC TECHNOLOGIES WORLD 2023
DXC receives Partner of the Year awards
DXC Technology has received 2023 Dell Partner of the Year awards in two categories: Excellence in Global Execution and Excellence in Industry Focused Wins (APJ). The awards were presented on the final day of this year's Dell Technologies World event in Las Vegas, where DXC was proud to be a Platinum sponsor and showcase our Cloud, Security, Modern Workplace, Virtual Desktop and IoT solutions.
Watch the replays of the DTW Broadcast interviews with Michael McDaniel, president of DXC Modern Workplace, and Dr. Aditi Banerjee, VP & GM of DXC Aerospace, Defense and Manufacturing.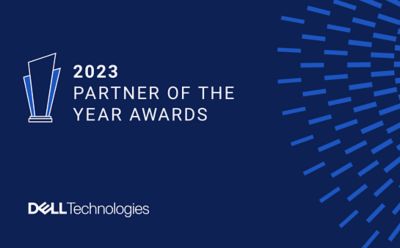 Excellence in Industry Focused Wins (Asia Pacific/Japan)
Having demonstrated outstanding sales performance through new account acquisition and expanding into industry segments, and recognizing DXC's significant growth potential and future opportunities for success, particularly in the public sector.
On demand: Interviews with TheCube
Driving business results with cloud transformation
Join DXC Technology and Dell Technologies in a series of conversations that explore how companies can run their mission-critical systems and operations while modernizing IT, optimizing data architectures, and ensuring security and scalability across public, private and hybrid clouds.
Cloud Right®: Managing workloads across the spectrum of data compute and storage options
James Miller, chief technologist, Cloud and Infrastructure Services, DXC
Jay Dowling, Americas sales lead, Cloud and Infrastructure Services, DXC

IoT for Manufacturing: A digital journey for manufacturing processes
Aditi Banerjee, VP and GM, Aerospace and Defense; Manufacturing, DXC
Todd Edmunds, global CTO of Smart Manufacturing, Edge Compute, and Digital Twins, Dell Technologies
Cyber Resiliency: End-to-end security across the modern IT infrastructure
Andrew Gonzalez, principal alliance lead, Cloud and Infrastructure Services, DXC
Jim Shook, global director, Cybersecurity and Compliance Practice, Dell Data Protection
Dell Technologies enables organizations to modernize, automate and transform their data centers using industry-leading converged infrastructure, servers, storage and data protection technologies. Dell Technologies services customers across 180 countries — including 98 percent of the Fortune 500 — with the industry's most comprehensive and innovative portfolio, from edge to core to cloud.